Stairs & Access Gantry's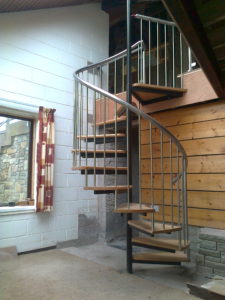 As metal fabricators N.N.F. Noel Noonan Fabrications undertake the fabrication and installation of bespoke components such as stairs, access gantry's, fire escapes and safety ladders. We aim to provide our customers with the best products, service and value for money available on the market. All our work is bespoke so we can work with your own design or together we can come up with a design to reflect your own tastes and style of home you are living in. Our fabricators are experienced in Mig, Tig and Ma welding. We also provide welding services and welding repairs to all these steel structures.
We manufacture a wide range of products such as feature stairs, balconies, glass floors, balustrades, railings and gates.
Balconies & Balustrades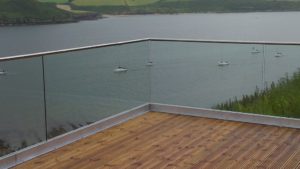 N.N.F. Noel Noonan Fabrications design and install bespoke balconies and balustrades, purpose built using glass, stainless steel and painted steel finishes. Our balconies add valuable outdoor space to new and existing buildings.
We can help you to create a whole new outlook, offering a complete balcony service from a free, no obligation site survey to quotation to fully finished balcony installation including quality timber decking. All balconies and balustrades are pre-built in our factory, galvanised and powder coated to protect against the elements as standard and can be fitted on site within one week, balustrades within a few days.
Whatever your personal requirements we are confident we can meet them. All of our balconies are professionally installed by our qualified engineering team. As part of our bespoke balcony service we will ensure any planning requirements are fulfilled.
Canopies & Shelters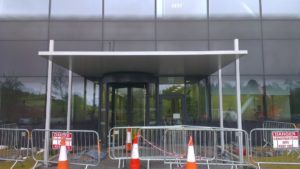 From entrance canopies, both free standing and wall mounted, to link bridges and a range of balcony designs, N.N.F. Noel Noonan Fabrications has added a stylish finishing touch to buildings. Canopies fabricated from galvanised, powder coated steel or stainless steel with toughened and laminated glass panel infill provide ample protection against everything that the notorious Irish weather can throw at it and frequently play a defining role in the design of a building. With an ever growing demand for facilities such as smoking areas, cycle shelters and waiting shelters N.N.F. Noel Noonan Fabrications is perfectly placed to offer the very best when it comes to stylish protection from the elements!
Access Ladders & Fire Escapes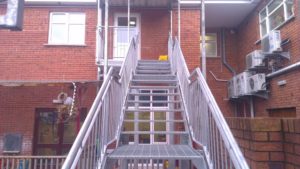 N.N.F. Noel Noonan supply and install a range of bespoke access staircases, fire escape stairs and access platform walkways with a range of solid durbar pattern or open mesh stair treads and flooring panels. Standard two ball pattern handrails with toe plates where necessary, or vertical bar type balustrade, to suit general duty or heavy duty loadings. Vertical access ladders complete with a range of extended handholds including self closing tubular gates. Ship type ladders / companion way stairs can be supplied with open mesh or solid durbar pattern treads. Where required, the company's own engineers will visit the site of a proposed installation and subsequently prepare schemes for access platform, storage or for fire emergency use.
Whatever your access requirements N.N.F. Noel Noonan Fabrications are able to create a package for all access metalwork for your needs.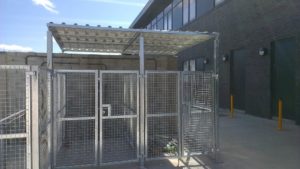 Caging & Piping
Caging – N.N.F. Noel Noonan manufacture, supply and install high quality steel cages and grills to provide secure and visible protection of valuable equipment and services. Standard sizes available or built to your design/specifications. Contents are visible for inspection through steel mesh whilst protected against theft or damage. Cages includes fittings for padlock and hinges built in.
Piping – N.N.F. Noel Noonan undertake pipe fabrication, pipe welding and threading in addition to our diverse range of steel fabrications. All our fabrication services are carried out in accordance with client drawings and quality assurance is maintained and reviewed throughout the process. We also offer a comprehensive and professional site installation service.
Gates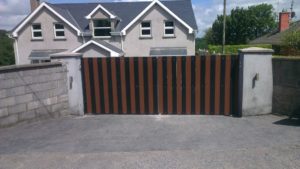 N.N.F. Noel Noonan Fabrications manufacture and fit high quality metal gates of all types including garden gates, street gates, farm gates, driveway gates and estate gates. Simple railing gates or ornamental scroll gates to our standard designs or to Customer specifications. We pride ourselves on producing 'made to measure' custom steelwork of the highest quality, with the help of a friendly and professional team we offer the best possible service. We have been steel workers and gate makers to both the domestic and commercial market for some years, specialising in both standard and custom made to measure steel work manufactured and delivered direct from our east midlands workshop.
N.N.F. Noel Noonan Fabrications offer a courteous, expedient, and professional service of the highest calibre, quality control is a major part of our manufacturing, customer satisfaction has always been our number one goal. We specialise in custom made to measure bespoke products. No job is too large or too small, we are well accustomed to providing steelwork to builders and contractors who utilise our ironwork manufacturing services.
Mezzanine Floor Installations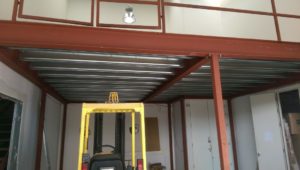 Mezzanine floor installations allow you to really maximise your office, production or storage space. If you need more space, but don't want to move to new premises, a mezzanine floor can prove to be a very cost effective solution. They are designed and engineered to fit within a current building, eliminating the need to move or expand and the inconvenience that goes with those options and are ideal for providing additional space for warehousing, manufacture, storage, offices, cafeterias, company records, locker rooms and more, a mezzanine floor can include access options for conveyors and machine services as well as for personnel and equipment.
Mezzanine floors can be designed for a number of different uses, for example:
Production space. To hold production machinery, so you can increase your production capacity without extending or moving.
A mezzanine floor can be fitted out with aisles of shelving to provide additional storage space.
Office accommodation. Clever design allows for single storey or two-tier office accommodation.
Single & Multi Tier
A mezzanine floor can be produced as a single- or multi-tier installation providing the ultimate in space customisation capabilities.
Steel Sheds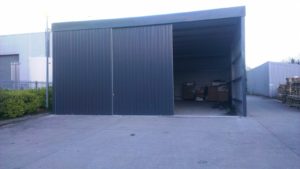 Noel Noonan Fabrications (NNF) are leading specialists in general fabrications, providing an unrivalled service in stainless steel products and solutions in Cork and throughout the surrounding area. New to our range of products are steel sheds and fencing, below is an example of some. is one of the Cork's leading manufacturers of steel storage for the industrial workplace, N.N.F Noel Noonan Fabrications uses the most advanced manufacturing methods to deliver quality steel furniture products. Our range of heavy duty workshop storage provides you with a tailored and flexible storage solution to workplace storage.
Storage Bins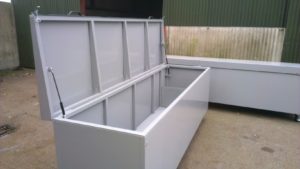 N.N.F Noel Noonan Fabrications is proud to be a leader in steel storage innovation and is firmly established as a pioneer in its field. We continually develop our range of products to anticipate the growing needs of the ever-changing working environment. Our aim is to provide you with a tailored and flexible industrial workplace storage solution that's right for you and your organisation. We are proud to be able to deliver our products nationally using our extensive distribution network.
Steeel Palisade & Fencing
Steel Palisade fencing is widely used in industrial and commercial fencing applications and provides an ideal perimeter security option. It is made up of H section posts with angle iron horizontal rails secured between them using link plates that are bolted each side of the post with permicone anti tamper nuts and bolts that when tightened cannot be removed. Vertical pales are then secured to the rails using the same type of nuts and bolts.
There are two common pale designs being 'D' and 'W' which simply refers to the section and shape of the pale and along side this there are a number of different top styles available that make this fencing ideal for a wide variety of applications, these are as follows.
Triple Pointed and Splayed – High Security
Single Point – Medium Security
Rounded or Rounded and Notched – Low Security
Manufactured from mild steel that is then galvanised to provide many years of maintenance free security it can then also be polyester powder coated in any RAL colour to blend in with the surrounding environment. Each 2.75 metre length can be individually positioned to follow the gradient of the ground making it an ideal fence for sloping or uneven sites. There are also a number of additional accessories that can be fitted to the top of the fence such as rotating anti scale barriers (as shown on the main picture) that will further enhance the level of security. For more information contact N.N.F Noel Noonan Fabrications